NET RESULTS SOCCER NEWS
See the Events page for upcoming programs.
June 8, 2013
Arsenal U15s Win Kelvin Norman Title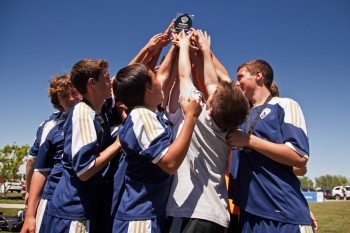 Coach Benjamin led the Arsenal Colorado U15 Boys Royal team to the championship of the U15/16 Silver Division at the Kelvin Norman Memorial Tournament in Aurora, Colorado. They defeated several year-older teams to get there, and went undefeated—including a stoppage-time equalizer against Rapids Copa White after trailing for most of the game, and a 2-0 shutout against Corinthians to take the title. Congrats!
---
August 15, 2012
Brad Shannon Joins RMHS Coaching Staff
Brad Shannon has taken a position as Assistant Coach/JV Coach for the fall Boys' season at Rocky Mountain High School in Fort Collins. He will be assisting head coach Ken Osterberg, and training and coaching the JV and C teams at RMHS this fall. Go Lobos!
---
February 5, 2012
Coach Benjamin Receives CYS Coach of Year Award
Net Results Soccer Training director Jeff Benjamin was recently honored by the Fort Collins Soccer Club and Colorado Youth Soccer for outstanding coaching.
He received the Fort Collins Soccer Club 2011 Coaching Excellence Award, and was recognized by the Colorado Youth Soccer association as a 2011 Coach of the Year for competitive teams.
Coach Benjamin was recognized for his work with the Arsenal Colorado U11 Boys Black team. He also coaches the Arsenal Colorado U15 Girls Royal team and works with the club's Intermediate goalkeepers.
---
October 23, 2011
Arsenal Colorado U15 Girls Royal wins Presidents Cup
The Arsenal Colorado U15 Girls Royal team, coached by Net Results director Jeff Benjamin, won the 2012 US Youth Soccer Colorado Presidents Cup with a 3-2 victory over Colorado United White at Aurora Sports Park. After falling behind 1-0 in just the 8th minute, Arsenal surged ahead with three goals to make it a 3-1 game 15 minutes into the second half. United pulled a goal back late, but Arsenal hung on for the victory.
Arsenal Royal went undefeated in the tournament, which featured 20 teams from across the state. Arsenal is the competitive arm of the Fort Collins Soccer Club.
With their state title, the Arsenal Royal team will go on to represent Colorado at Regionals, June 12-17 in Denver. Congratulations to Coach Benjamin and the girls!

Net Results Soccer Training
Fort Collins • Loveland • Berthoud • Longmont • Greeley • Northern Colorado • Wyoming